The COVID-19 Economy
We won't recover until 2022
Across the board, economists and policymakers are saying the economy will suffer more than initially expected.
The Democrats are suggesting another $3 Trillion stimulus bill.
Jerome Powell, the Chair of the Federal Reserve, warned of permanent economic damage if another stimulus bill is not passed.
According to Powell, "40 percent of American households earning less than $40,000 lost jobs in March".
Over 100,000 small businesses (more than 2% all small businesses) have closed permanently.
The scenarios being painted show a recovery that will take, at minimum, until Q1 2021.
... and more policymakers and economists think this is becoming unlikely.
The WHO's chief scientist pegged the timeline to 4-5 years before we have COVID-19 under control.
According to McKinsey's poll of business leaders, recovery timelines are "ranging between three quarters and more than five years."
The chart below is indicative of where growth is headed. This was published by the IMF in early April.
Quarterly World GDP (Q1 2019 = 100)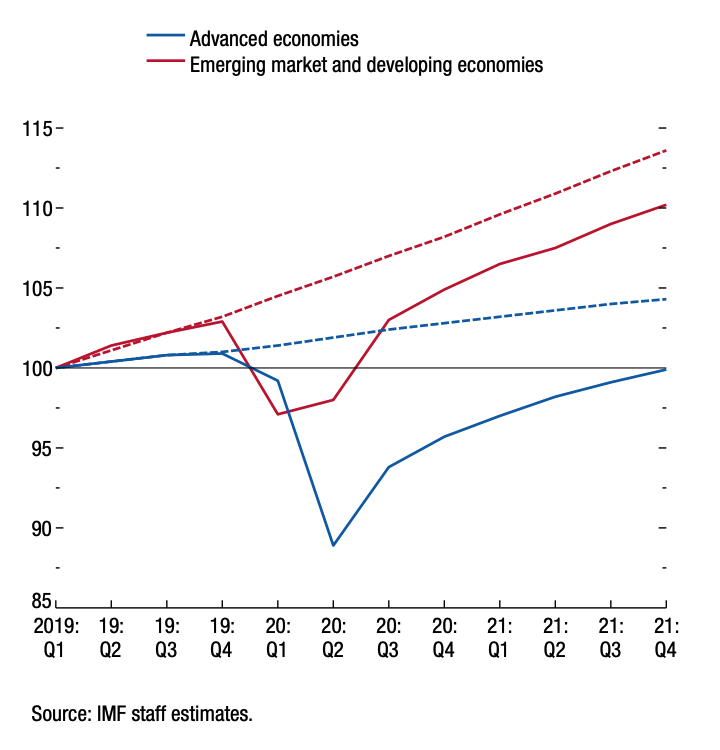 The chart shows a drop in Q2 2020, which is when lockdowns were enacted in most parts of the world.
We begin growing again in Q3 2020. However, we don't actually get back to our old GDP levels until Q4 2021.
This is considered an optimistic scenario; it assumes we don't return to lockdowns or have further outbreaks of the virus.
Q3 2020 is critical to whether we recover by Q1 2022, or whether the recovery takes a few more years.
As Powell said in his speech on Wednesday, "The passage of time is really all it takes to turn a liquidity problem into a solvency problem."
The long-run effects are somewhat predictable: the longer we suffer economically on this side of COVID-19, the longer a recovery will take.
This is likely driving the focus on reopening economies, even if states are not adequately prepared.
Two days ago, I wrote how policymakers are starting to worry about permanent economic damage. This narrative is gathering steam faster than I expected. The fear of a long-term downturn will continue to put pressure on our governments and ultimately drive policy responses.
The pace and effectiveness of a restart in Q3 2020 will set our trajectory into the middle of this decade.