Consulting: The Customer Data Framework (CDF)
Our approach to consulting is focused on being data-driven; we build dashboards and consistently track metrics to ensure our own processes are contributing to your company's improvements and growth, and help you do the same once we conclude our relationship. We also focus on agility -- generating results as quickly as possible, and then building on these early successes. Finally, we like to work with customer-oriented companies -- specifically, we focus on the end user or customer experience, and enjoy driving changes that make customers happier, encourage them to spend more, and drive lifetime value (LTV) profitably.
Illustration
As a brief illustration, we'd like to introduce the Customer Data Framework (CDF) below. This is an eight-step framework we use to map your company's capabilities around data collection, aggreation, analsysis, execution, and so on. The ultimate goal of doing this is to understand how your existing data-oriented processes and culture operate, determine which organizational units align with each component of the framework, and develop a strategy to enable those units to achieve best-in-class capabilities.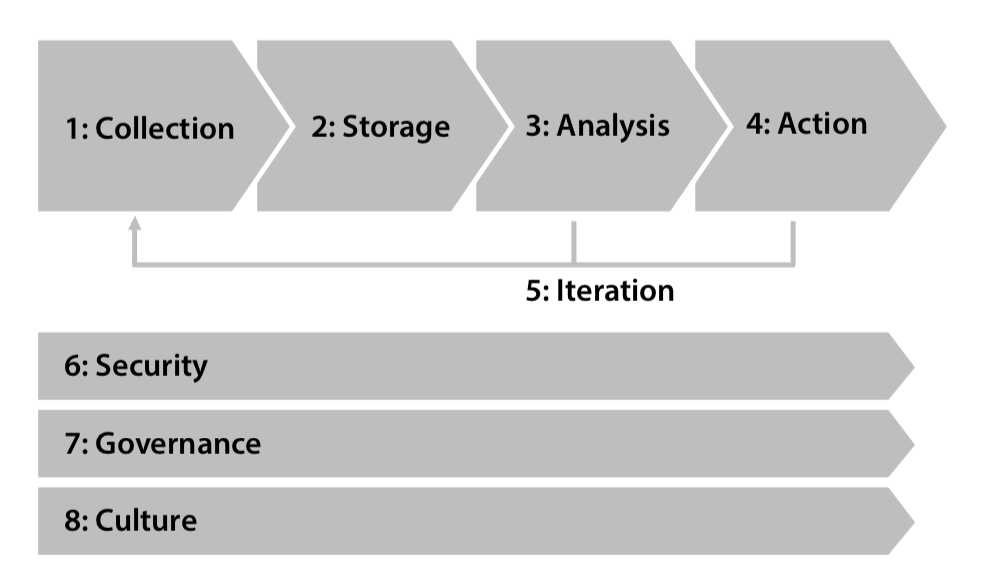 A CDF-oriented engagement will begin with CIS running 30 or more interviews with your internal team members. Their feedback will be anonymously mapped to the eight-step framework, and CIS will facilitate workshops on how your company can make short- and long-term investments in each of the CDF components. At the end of the engagement, you will have a roadmap for investing in data-oriented capabilities, along with a business case for what this means for both your top-line revenue targets and bottom-line costs.